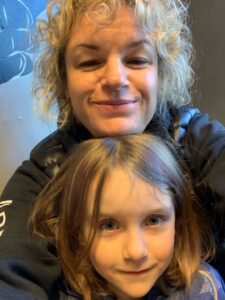 As we prepare for a very busy November with our Acorn Intensive, Alumni Weekend and 3-Days with SHiFT events, I've been thinking a lot about staying in the moment and being present for other people.
Before recovery, most food addicts were overwhelmed by thoughts of food and eating. Entire days were lost to thinking about bingeing. In recovery, food addicts almost always discover that they have a lot more free time. While some of this time is used to create new behaviors – attending support group meetings, preparing and shopping for abstinent food and things like that – there's also more free time for connecting with friends and loved ones.
For me, that means spending more time with my niece Georgia – that's us together in the photo above.  Not only do I appreciate being with her even more now that I'm abstinent, more importantly, I can be present in her life. Once in recovery, many food addicts discover that even though they were physically next to a person, they were so preoccupied with thinking about food when they were in their disease that they were unable to spend quality time with anyone.
Being present in someone's life can be something as simple as listening rather than thinking about what you'll say next or letting things happen spontaneously in the moment rather than trying to control them.
This upcoming week, take a few minutes to practice being present in life, first with yourself then with your loved ones. Enjoy the good feelings that come with that!