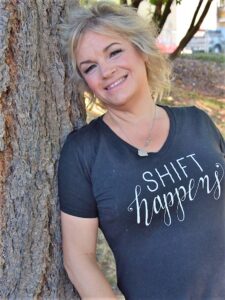 Amanda Leith – Operations Director & Counselor/Facilitator
Amanda Leith launched SHiFT – Recovery by Acorn in Spring of 2019, opening an exciting new chapter in the 25-year legacy of Acorn Food Dependency Recovery Services. A member of the Acorn team since 2015, Amanda is an addictions counselor and a recovering food addict.
Amanda's passion for recovery from food addiction helps to produce life-changing results with her clients. Her sharp sense for what needs to be addressed first in an individual's life in order to overcome food addiction guides her practice. The message that she brings to those struggling is one of hope.
Amanda is an addiction counselor, a certified food addiction counselor, FAI/ACORN certified food addiction professional and CENAPS-trained Advanced Relapse Prevention Specialist (ARPS), with a background in drug and alcohol addiction counseling and group facilitation at a Vancouver-based non-profit residential treatment center for women. She sits on the board of directors for the Food Addiction Institute.
Click here to read Amanda's story of recovery from food addiction.
---

Mary Foushi – Counselor/Facilitator
Mary Foushi co-founded Acorn Food Dependency Recovery Services in 1994, creating one of the world's first professional treatment programs for food addiction. A recovering food addict herself, Mary has 30 years of stable recovery and is maintaining a 200-lb weight loss.
Her personal commitment to recovery and a rich knowledge of the 12 Steps shine through the work that she does with people struggling with food addiction. With honesty, wisdom, and a grounding in practical action, Mary keeps her clients focused on recovery at all steps of the process.
Mary holds a degree in Human Services with a specialty in Addiction Studies. She is a CENAPS-trained Relapse Prevention Specialist and a certified food addiction professional. Mary facilitates groups, workshops, and Acorn Intensives throughout the world. She is co-author of Food Addiction Recovery: A New Model of Professional Support – The Acorn Primary Intensive.
Click here to read Mary's story of recovery from food addiction.
---
Karla Osborne – Coach/Facilitator
Karla Osborne began her journey in food addiction recovery at an ACORN Intensive, and is grateful to be the newest member of the SHiFT- Recovery by Acorn team. She is a Registered Therapeutic Counselor in Canada, an internationally certified Food Addiction Counselor and a Certified Trauma Professional.
Karla has been working with people in a variety of contexts and capacities since 2007. Her breadth of personal and professional experience is an asset to clients as she incorporates her understanding of human growth and development, trauma, mind-body connection (somatics) and relationships (codependency recovery) in her work. Karla's honest, calm and compassionate style is often reassuring to clients as she supports their physical, emotional, spiritual and mental recovery from food addiction. Her role with SHiFT includes working as a coach and facilitator as well as administering aftercare programs.
---
Raynea McCumber – Operations Administrator
Raynea has managed the SHiFT office since 2011, coordinating SHiFT – Recovery by Acorn food addiction treatment programs and overseeing registration. She assists clients with any logistical needs to ensure that their treatment experience runs smoothly.
Often the first point of contact for SHiFT – Recovery by Acorn clients, Raynea brings warmth and ease to an otherwise daunting process. Her commitment to supporting others helps those struggling with food addiction to feel at home in their treatment program.
Raynea holds an AAS degree in Computer Information Technology and Networking. Her background is in executive support, previously serving as registrar and admissions director for public and private schools.
---
Tina Selinsky – Group Leader/House Manager
Tina Selinsky, M.Ed., is a graduate of the ACORN Professional Training and served as secretary and treasurer of the Food Addiction Institute for over 5 years. Tina has facilitated ACORN groups and operates Sugar Free Place, a recovery home dedicated to supporting people's abstinence. Tina has been active in a Twelve Step community for 30 years and is committed to putting abstinence first, absolutely!