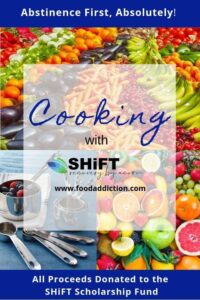 October is National Cookbook Month and we're celebrating by announcing that we will be publishing a SHiFT – Recovery by Acorn Cookbook in November! All proceeds from the cookbook will go to benefit the SHiFT Scholarship Fund to help food addicts find recovery.
In addition to purchasing a cookbook when it's available, you can help by contributing an abstinent recipe. The recipe must follow the Acorn Food Plan and we will give credit to anyone who shares a recipe.
We are super excited about this project and believe that it will help many food addicts to sustain and find recovery. Enjoying your food in recovery is important for long-term abstinence.  The recipes in this book will help recovering food addicts to experience variety while still following a nonaddictive food plan.
If you have a recipe you'd like to share, please email it to contact@foodaddiction.com.
Thank you in advance for helping still-suffering food addicts to find recovery.