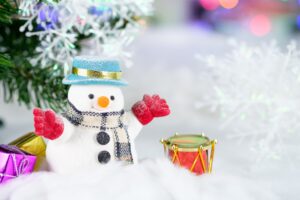 The holiday season is certainly upon us!! Holiday music is blaring, stores are bustling, roads are busy, lights are twinkling and chocolate is EVERYWHERE!! I say that very dramatically. However, thank you Universe, chocolate is not speaking to me at all this year. Wow, what a huge gift that is.
Recently, I have been thinking about what the holidays really mean to me…and the truth is, I really don't know. Holidays were always a "food extravaganza" for me and, therefore, I LOVED it!! I couldn't wait for the holiday season to come.
So I have been surprised and saddened in recent years to find that the thrill and excitement are no longer there. The loss of these "happy" feelings came at the same time I became abstinent; hence, the holidays were no longer about food and eating.
My first abstinent holiday was OK. It was a little boring and lackluster but I was pretty thrilled with the changes both physically and mentally that had happened in my life (I was just shy of 12 months of abstinence). That was still quite exciting and thrilling and I made it through pretty well.
Then along came year two…this was tougher. The honeymoon was over. I was restless, irritable, and discontent, and I HATED everyone in my family that still thought the holidays were about indulging. Didn't they know I was not doing that anymore and therefore none of them should?! Clearly, they had not received my memo. My expectations were drastically unmet…and it was all their fault…HUMPH!
Year three I was going to show them and stay away for the holidays. I spent them in Florida. It was actually a lovely day that started with a 12 Step meeting on the beach and finished with an abstinent dinner with friends in recovery.
Which brings me to this year where I am still asking myself what the holidays mean to me? Now that it no longer includes indulging in food, alcohol, shopping and all around gluttony, I am left with this big unknown.  I am home in Vancouver this holiday season and working to create a new image of the holidays. So far what I have come up with is pretty simple, the holidays are:
Just like any other day in that my recovery and abstinence will come first.
A day I will weigh and measure all of my meals following my food plan.
A day I will get up and the first thing I will do is pray and meditate.
A time of beautiful, twinkling lights and sparkling candles.
A time I can spend with family and friends, if I choose to. (Choose is a big word for me here as I don't have to do what I have always done. This will take courage as I get stuck in the "I will miss out if I don't do EVERYTHING.")
A time I can choose to buy gifts for people in my life. (Again, choose is the operative word here. I don't want to consume just to consume. This is also very hard for me to do.)
A time I can play Catch Phrase with my nieces and nephews and laugh hysterically when my Mom and Aunt join in. (I promise that we laugh with them, not at them.)
A time I can get quiet and present and reflect over the previous year.
A day I will practice Steps 10, 11 & 12 throughout the day.
A day I will end with prayer, meditation and gratitude.
So, what I am really saying is that on my holiday I will get up, show up and God willing, go to bed abstinent. And I pray for the same for all of you!
Wishing everyone a holiday season full of abstinence and inner peace,
Amanda
PS I would love to hear what this time of year means to you!
---