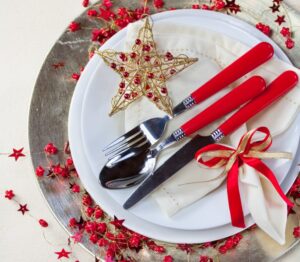 The holidays are right around the corner! I'm not sure about you, but it feels like they crept up so fast this year. No matter how you plan on celebrating the holidays this year, you deserve to be abstinent. That being said, we have provided you with a tasty abstinent Turkey Dinner recipe below.
Remember, no gravy or stuffing**
Holiday Dinner:
Roast Turkey (Butterball tied turkey breast roast in freezer) 
 (0.33lb raw equals approx. 4oz cooked)
Take turkey out of plastic packaging; keep the string wrapped around the turkey.
Throw the gravy mixture away.
Sprinkle with salt, pepper and poultry seasoning.
Place in a crock pot. 2 roasts can go into one crock pot.
Fill your crock pot with chicken broth until it covers about half the turkey. Turn on high and cook for approximately 5 hours. Don't want to cook much longer as it will dry out. Slice and serve.
Roasted Baby Potatoes 
Serving size – weigh out 6oz raw for every 4oz cooked needed
Heat oven to 375
Cut baby potatoes in half.
Spray with olive oil and sprinkle with salt & pepper.
Place in a single layer on foil & sprayed cookie sheet.
Bake for approx. 45 – 60mins.
Carrot & Turnip Mash
Serving size – weigh out 6oz raw for every 4oz cooked needed
Peel all veg and cut into chunks.
Cut approx. same size so cooks evenly.
Put all in a steamer and steam until soft.
Save the water and use as liquid when mashing.
Mash all together with leftover liquid, salt & pepper.
You can also use veggie or chicken broth as liquid.
Oven Roasted Brussels Sprouts
(2lbs uncooked makes about 20oz cooked)
2lbs brussels sprouts quartered

Olive oil spray

¼ tsp pepper

¼ tsp garlic powder

¼ tsp paprika

¼ tsp salt
Heat oven to 400.
Place quartered brussels sprouts in a large bowl.
Spray with olive oil and sprinkle with salt, pepper, garlic powder and paprika. 
Bake for 20 – 30mins. 
If you prefer crispier, bake longer.
We hope you enjoy this meal should you choose to try it. If you like these recipes, here's a reminder that you can order our Abstinent Cookbook Here which includes this recipe and many more!
Have a lovely holiday, however you are spending it! From the entire SHiFT Recovery family to you, we wish you and your family health and happiness during this special time.