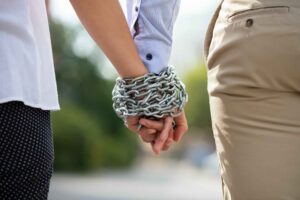 I have to do everything myself. I can't count on anyone. 
No one will love me if I make a mistake. 
I shouldn't spend time or money on myself. 
Why won't he just do what I want him to?
These thoughts, and many others like them, reflect codependent thinking. For those of you who don't know, codependency is an unhealthy fixation on other people's behaviors, needs, and attitudes to the extent of neglecting your own needs.
In other words, codependency is an addiction to other people in the same way that those who are food dependent are addicted to certain foods.
People pleasing, having poor boundaries, trying to control others, caretaking, being unable to communicate feelings in a healthy way, obsessive thoughts about other people, and low self-esteem are all part of codependency.
Spending all of your time trying to meet other people's needs, feeling trapped, or constantly making sacrifices in a relationship are some of the behaviors that codependents engage in. Research tells us that codependency gets worse without treatment.
As with any addiction, codependency can have devastating consequences. At SHiFT, we've seen firsthand the damage that codependency can cause to food dependency recovery.  Nearly 100% of the people who relapse have told us that codependency issues played a major role in their picking up addictive foods.
If you are in recovery from food dependency and codependent behaviors are causing you to think about bingeing, it's important for you to get help immediately. There are several Twelve-Step programs (Codependent's Anonymous, Al-Anon, Adult Children of Alcoholics, Families Anonymous) that can help or if you're a SHiFT alumni, we recently introduced a new codependent program specifically for those who are food dependent. There are only a few spaces left in our new codependency program that begins on Friday, November 20.
Whatever way you decide to address your codependency issues, the important thing is that you take steps towards recovery. Nothing and no one is worth losing your recovery.