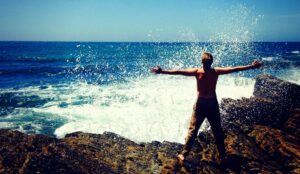 Wow, what a couple of weeks it has been!  We had an amazing inaugural Acorn Intensive in San Diego. Beautiful weather, an amazing home, delicious home cooked meals and participants desperate for answers to the age-old questions "what is wrong with me, why can't I get this?" These questions are so familiar to me as I asked myself the same questions for over 35 years.
Some of the comments we received after the event were:
"You MUST do your best to get involved in SHiFT. It is so different. You will be blessed"
"SHiFT has completely changed how I view my food addiction as a disease and helped me realize it isn't my fault and allowed me to dive deeper into comprehending my powerlessness. I am leaving abstinent and beyond grateful."
"Best program and it works!"
"Full of gratitude for everything that happened all week. The process is awesome and I felt totally safe."
One of the participants said to me that he had "never felt joy in his life as he had for the last 5 days" (keep in mind he said this while giving up sugar and flour, which had become the most important things in his life.) This is the same participant who now has 17 days of following a food plan specifically designed for food addicts and who has never been able to follow any diet in over 20 years. He was pre-diabetic and the doctor had prescribed metphormin for him…he is already off of this drug. Another participant said simply, "thank you for providing me with hope." My experience with this program it provides HOPE and a SOLUTION that so many of us (me included) never thought was possible. I see over and over people walking through our doors completely hopeless and defeated and literally five days later walking out with a belief that they too have finally found a solution to their devastating food/weight/emotional issues. People please hear me…WE DO NOT HAVE TO LIVE WITH THIS FATAL DISEASE!! There is a solution and we can help.
We can help you whether you are brand new to the idea of food addiction, in and out of abstinence or in a major relapse. You do not have to keep suffering alone. I just don't believe there is such a thing as a hopeless food addict or a hopeless relapse prone person. I have seen way too many people recover, coming from a huge array of backgrounds and levels of food dependency to believe anything other than all of us can recover from this brutal malady of food dependency.
Our first Acorn Intensive will begin on January 10, 2020.  Click here for more information.
What an amazing way to head into the New Year, I could not think of a better gift to give yourself, your family and your friends. Remember we cannot do this alone, together we can and do recover.
Wishing you peace, joy, and abstinence,
Amanda
---