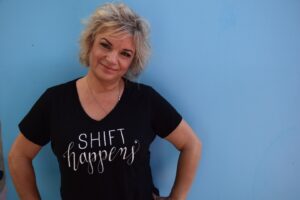 Happy New Year!!!
As 2017 comes to a close and the newness of 2018 settles upon us, I can't help but think about gratitude. I have so much to be grateful for. I don't always see this, but, if I choose, it is always there, available for me to be aware of and bask in the glory of my gratitude.
I was reminded of this recently when talking with a friend on a very rainy, gray day here in Vancouver. She said, "Wow, it's raining so hard today." The next words out of my mouth were going to be, "I know! Isn't it awful, I hate these days." However, before I could get those words out of my mouth, she said, "It's great! My car was so dirty and now it's clean!"Yea, right, that's just what I was thinking….NOT!!
It is so easy for me to fall into the depths of negativity and self-pity. Sometimes it feels like it's my "comfort zone" since I spent so much of my life there. I never knew that was what I was doing or even that I had any other choice. Life just seemed hard, and it was definitely hard on me, or so I thought. The idea never occurred to me that I was completely responsible for how I saw things and whether life was "hard on me." This doesn't mean that struggles wouldn't appear in my life—after all, that is life. What it means though, is that I get to choose how I view things and, therefore, I get to choose to believe life is "hard" or that life at times is "beautifully challenging."
I have spent a lot of time with my niece (yes, the one and only Georgia, who, as I am sure you have noticed, I love to squeak into any newsletter that I possibly can) and my other sister's two dogs in the last month. Wow! Talk about gratitude and staying in the moment; young children and animals are an amazing reminder of how this can be done. They have all taught me some beautiful lessons in the last couple of weeks.
Georgia and I were walking to the park with the dogs and I said, "Georgia I am feeling a bit sad because this is the last time I am going to see you before I go back to Florida for a couple of months." She was quiet for a minute and I could see her little mind racing, and then, she looked at me with a bit of a furrowed brow, raised her hands with palms facing upward and said, "But we're here together now"! From the mouths of babes; what brilliance this beautiful little 4-year-old human being had just shared with me. Amanda, be grateful for what is happening NOW!!
I think the key for me to remember is that I always have a choice everyday in how I view each situation that comes my way. So I ask myself—and each of you—to be cognizant of the fact that when our thoughts say, "Life is Hard" our next thought can be, "Life is beautiful and I am grateful for this situation because I know, if I choose to, I can grow and learn from it."
Today is January 3rd  and I am reminded of the many events of 2017 and am in awe of what I have to be grateful for. There are so many miracles in my life. My top 10 gratitudes for 2017 are:
Freedom from the bondage of food for another 365 days.
The ability of my body to physically re-build its way back to health and strength after years of abuse.
My powerful, strong, smart, beautiful niece Georgia and the role I get to play in her life because of abstinence and recovery.
That I have a career which allows me to support others who are travelling the same path as me in recovery from the brutal disease of food addiction, and, therefore, get to witness on a daily basis the strength, tenacity and hope of human beings.
The country and city I call home, Vancouver, Canada, for its natural beauty, diversity and the freedoms it allows me.
All the long walks I have taken in the stunning forests in Vancouveor or along the gorgeous beaches in Florida.
The summer vacation I took with my Mom where I showed up as a responsible, respectful adult who had the ability to get outside of herself and truly "see" my Mom for all her amazingness.
For all the people in recovery who walk this path with me and show me that recovery is possible one day at a time.
For my family who stuck with me through active addiction and is now allowing me the opportunity to show up differently, one day at a time, and slowly gain back their trust.
For my daily growing relationship with my higher power who, when I let go of control, truly guides me to a life beyond my wildest dreams.
Wow! I have so many more gratitudes, but this will just have to do for now! I would love to hear your gratitudes. 
Wishing you an abstinent, peaceful and grateful 2018,
Amanda
---