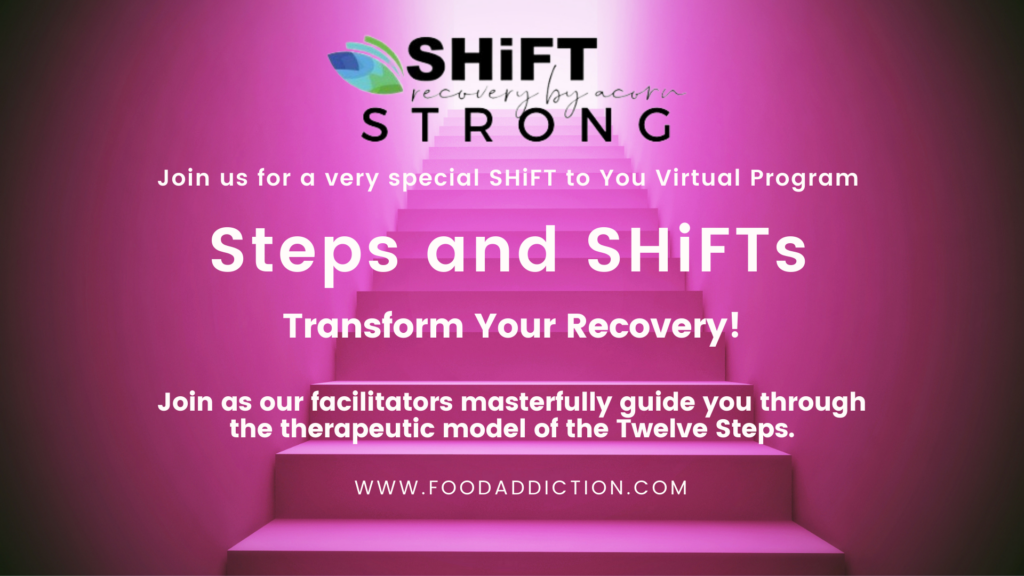 Steps and SHiFTs Virtual Program:
"I feel so lucky to have been a part of the SHiFT step workshop.  The leaders were excellent and I was able to finish 4th step work, while gaining a deeper understanding of all the steps.  It was an excellent group experience and I need to continue in order to stay abstinent during this chaotic time."  Cassie
Are you at home obsessing about food or finances? Is obsession getting in the way of your recovery? Long-term food addiction recovery depends on working the Twelve Steps.
We can help you do that.
Join us for our Alumni-only Steps and SHiFTs Virtual Intensive from
April 23 – June 4, 2022
Due to incredible demand, we are offering this very popular program which will provide participants with the opportunity to work through each of the Twelve Steps using the therapeutic model with guidance from Esther Helga Gudmundsdottir. Esther is the Director of INFACT, an International School for Food Addiction Counseling and Treatment based in Iceland and is a world renowned food addiction professional specializing in the therapeutic model of the Twelve Steps. Esther is truly masterful at this work and has brought many old timers to a whole new level of recovery.
What's Included in the Steps & SHiFTs Program:
A full weekend online sessions (April 23 & 24 – 8 am – 2: 30 pm PT / 11 am – 5:30 pm EST)
Five online sessions once a week for 5 weeks. (April 30, May 7, 21, 28 & June 4 from 8 am -11:30 am PST / 11 am – 2;30 pm EST)
Four one-hour one-on-one online coaching sessions with Esther
Daily email check-ins
An Alumni-only program allowing for deeper recovery work
Cost $1,750
This will fill up fast, space is limited!